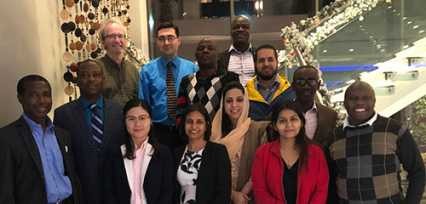 NIDA's International Program Director Steven W. Gust, Ph.D., moderated a session on research and training during a session at the Fourth Annual Meeting of the International Society of Substance Use Professionals (ISSUP). The African Union and Kenyan National Authority for the Campaign Against Alcohol and Drug Abuse co-sponsored ISSUP-4, which was held December 10–14, 2018, in Nairobi, Kenya.
With the assistance of 2014 NIDA Hubert H. Humphrey Drug Abuse Research Fellow Farheen Naveed, Pakistan, Dr. Gust hosted an informal networking event during the meeting for NIDA Humphrey Fellows. Former NIDA Hubert H. Humphrey Fellows who spoke during the conference included Isidore S. Obot, Ph.D., M.P.H., Director of the Centre for Research and Information on Substance Abuse, University of Uyo, Nigeria; Salman Shahzad, Ph.D., Institute of Clinical Psychology, University of Karachi, Pakistan; Rogers Kasirye, M.A., Executive Director of the Uganda Youth Development Link (UYDEL); and Mutaawe Rogers, Senior Programs Manager of the UYDEL.
In addition to plenary sessions and exhibitions, research sessions focused on prevention and advocacy; policy, legal, and enforcement issues; treatment and rehabilitation; research and training; and partnerships and community-based initiatives. The International Consortium of University Drug Demand Reduction and the Colombo Plan Drug Advisory Program (DAP) Youth Forum held parallel public meetings and member states of the African Union held private meetings on drug demand reduction and epidemiology.
Training courses featured the DAP Universal Prevention and Treatment Curricula as well as sessions sponsored by the United Nations Office on Drugs and Crime (UNODC), Inter-American Drug Abuse Control Commission (CICAD), and Community Anti-Drug Coalitions of America (CADCA). The Global Centre for Credentialing and Certification (GCCC) held examinations for certified addiction professionals and recovery coaches. The U.S. Department of State Bureau of International Narcotics and Law Enforcement Affairs (INL) supports ISSUP with a range of international partners. INL and the African Union provided travel support to former NIDA Humphrey Fellows, including: Walid Hassan, Egypt; Samuel Hanu, Ghana; Daniel Amankwaah, Jummy Koyejo, Bola Ola, and Uchechi Onukogu, Nigeria; Evodia Mabuza-Mokoko, South Africa; Mawouena Komlan Bohm, Togo; and Rogers Kasirye and Mutaawe Rogers, Uganda.