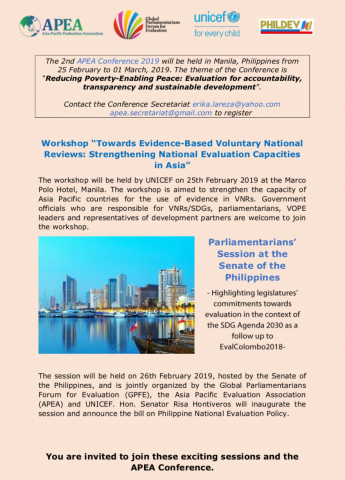 Workshop "Towards Evidence-Based Voluntary National Reviews: Strengthening National Evaluation Capacities in Asia" will be hosted by UNICEF on 25th February 2019 at the Marco Polo Hotel in Manila.

Parliamentarians' Session at the Senate of the Philippines to highlight legislatures' commitments towards evaluation in the context of the SDG Agenda 2030 as a follow up to EvalColombo 2018 will be hosted by the Senate of the Philippines and the Global Parliamentarians Forum for Evaluation (GPFE) on 26th February 2019 at the Senate House.

Contact the Conference Secretariat erika [dot] lareza [at] yahoo [dot] com apea [dot] secretariat [at] gmail [dot] com to register.
REGISTRATION IS STILL OPEN for the APEAConf2019
Please register here: https://www.apeaconference2019.com
Having problems registering for the conference? Access the registration form here https://drive.google.com/open… and submit manually
The online payment facility for the conference registration fee is available! Below are the rates:
Conference registration fee (regular rate) - 300 USD
Inclusions:
Participation to the following:
26 February - Parliamentarian's session hosted by the Philippine Congress and organized by Global Parliamentarians Forum for Evaluation & UNICEF (DAY 2)
27 February - Main Conference, Opening Day (DAY 3) hosted by the Asian Development Bank (ADB), Ortigas Center
28 February to 1 March - Main Conference (DAY 4 & 5) at Marco Polo Hotel, Ortigas
Conference kit (booklets and tokens)
Attendance Certificates
Lunch and AM/PM Snacks
Pre-conference workshop fee - 100 USD (availability to be announced)
For group and local participants discount, email apea [dot] secretariat [at] gmail [dot] com
The 2nd APEA International Conference will be held at the following venues:
- 25 February 2019 | Pre-Conference Workshop, DAY 1 - Marco Polo Hotel, Ortigas Center, Pasig City
- 26 February 2019 | Global Parliamentarians Forum for Evaluation: Global MPs Session, DAY 2 - Venue to be announced
- 27 February 2019 | 2nd APEA International Conference, OPENING DAY, DAY 3 - Asian Development Bank (ADB) Complex, Ortigas Center, Pasig City
- 28 February 2019 | 2nd APEA International Conference, DAY 4 - Marco Polo Hotel, Ortigas Center, Pasig City
- 1 March 2019 | 2nd APEA International Conference, DAY 5 - Marco Polo Hotel, Ortigas Center, Pasig City