Published by
Primary Care Respiratory Society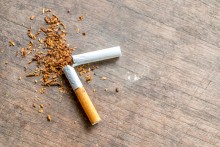 Tobacco use is one of the key risk factors for many chronic diseases including lung diseases, cardiovascular diseases and cancer. Despite this, it is common throughout the world. The Primary Care Respiratory Society (PCRS) have developed a new guide for clinicians to support the diagnosis and management of tobacco dependency.
The guide helps practitioners recognise smokers and provides information on how to motivate and support smokers to quit.
The publication offers the latest trends in tobacco dependency and provides an overview of populations who are particularly at risk.
It then goes on to describe how to manage tobacco dependency and guides practitioners through the steps of instigating and the supporting a quit attempt. 
An expert panel has contributed a section regarding clinical questions and tricky, but common scenarios practitioners face when trying to support patients attempting to quit.
This guide is relevant to any health professional working with patients or clients who want to manage their tobacco dependence. It is also hoped that policy and decision makers working in health care systems will use the publication to help guide decisions about the environment they work in.