Sicily, Italy,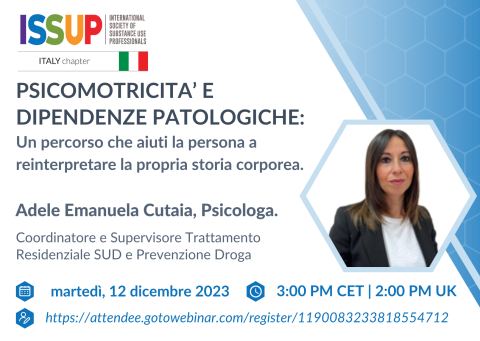 ISSUP Italy warmly invites you to participate in their upcoming webinar on the effectiveness of psychomotor activities in individuals with Substance Use Disorders (SUD) undergoing residential treatment in a Therapeutic Community.
Time: 3:00 PM CET | 2:00 PM UK Time
The webinar explores the intricacies of emotional-tonic dialogue, pedagogy, and the psychology of change. It explores how psychomotor re-education, utilizing structured movement within defined time and space, plays a pivotal role in improving self-perception and fostering healthier interpersonal relationships. The discussion extends to the profound impact of substance dependence, emphasizing how it subjugates the body and mind, filtering, controlling, and altering sensory and emotional experiences. The crucial insight is that genuine change necessitates the body's recognition that the danger has passed, allowing it to engage with the present reality.
The webinar also presents findings from a compelling pilot project assessing the efficacy of psychomotor interventions in the context of residential rehabilitation for substance addiction. This project places a spotlight on the significance of corporeality—expressing emotions and communication without reliance on substances. Results from psychomotor activities, including body mediation and creative representation, reveal noteworthy psychosocial enhancements. The study underscores the promising potential of psychomotor therapy in effectively addressing substance use disorders. In doing so, it provides valuable insights for refining rehabilitation programs and advancing our understanding of addiction treatment.
Learning Outcomes:
Emotional-tonic dialogue
Pedagogy and psychology of change
Psychomotor re-education
Improving relationships with oneself and others
Psychomotor re-education and the change process
Intended Audience:
Healthcare and educational professionals, students, and educators involved in the treatment of Substance Use Disorders and drug prevention.
Presenter:
Dr. Adele Emanuela CUTAIA, Psychologist,
Coordinator and supervisor of the therapeutic program for the treatment of substance use disorders and pathological dependencies at Associazione Casa Rosetta Onlus.
Responsibilities include health promotion projects and substance use prevention at Associazione Casa Rosetta Onlus.
Webinars and online events presented and organized by the International Society of Substance Use Professionals (ISSUP) are provided for informational purposes only. They are educational in nature and do not constitute medical advice, diagnosis or treatment.