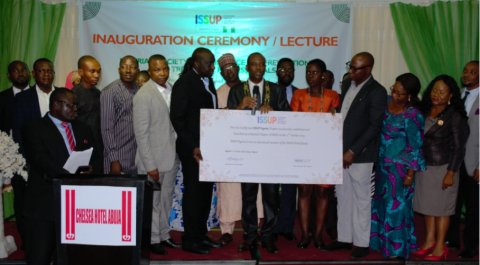 The formal launch of the ISSUP Nigeria Chapter took place on October 17, 2019.
As part of the inauguration, the pioneer executive council of the ISSUP Nigeria Chapter, led by Dr Martin O. Agwogie, took their oath of office.
The inauguration was followed by the first Annual General Meeting of the association, which allowed members of ISSUP Nigeria the opportunity to meet for the first time. The event attracted significant professionals and stakeholders in the field of drug demand reduction in Nigeria, including government ministries, departments and agencies as well as people from international communities.
Two federal cabinet ministers, members of the drug law enforcement and regulatory, military and paramilitary agencies and professionals from tertiary and hospital institutions attended the event.
The event also included a public lecture on the topic Drug Demand Reduction: Holistic and Integrated Approach for Sustainable National Development – The Way Forward delivered by Prof. Princewill Stanley, Professor of Neuropsychiatry.
Goodwill message of the honourable Minister of Health was delivered by the Director in the Federal Ministry of Health. Goodwill message of the United Nations Office on Drugs and Crime (UNODC) was delivered by the Country Representative in Nigeria, Dr Oliver Stolpe. Goodwill message of the U.S. Department of State's Bureau of International Narcotics and Law Enforcement Affairs (INL) was delivered by the Country Director, Mr James Jewett. Additionally, goodwill messages from the Commissioner for Social Affairs, African Union Commission and others were also read at the event.
It was an exciting moment to hear the video recorded message of ISSUP's Chief Executive, Joanna Travis-Roberts. The message was accompanied by a certificate presentation and was greeted with a standing ovation.
In his welcome address at the launch, the President of ISSUP Nigeria Dr Martin Agwogie highlighted the benefits of membership of ISSUP, membership criteria, achievements recorded so far, capacity building and ISSUP strategic partners, notably the International Consortium of Universities for Drug Demand Reduction (ICUDDR) and the Colombo Plan Drug Advisory Programme. The chairman of the occasion, who is also the chairman of the presidential committee on drug abuse and illicit trafficking, noted that the inauguration of the association was coming at the right time and expressed government willingness to partner with the association in proffering solutions to the challenges of drug and substance abuse in Nigeria.
Individuals who have contributed significantly to the development of drug demand reduction in Nigeria were presented with an award. Among the awardees was the formal Director-General of the National Drug Law Enforcement Agency (NDLEA).