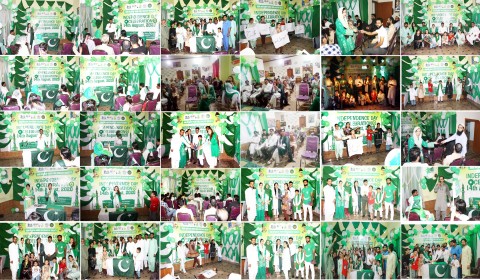 Youth Forum Pakistan (For Drug Use Prevention) in Collaboration with M A Jinnah Foundation (Regd), Sialkot and ISSUP Pakistan Organized a event regarding Independence Day Celebration on 13th August, 2020 at New Life Rehab Center, Sialkot-Punjab with theme of '' OUR MISSION DRUG FREE HEALTHY SOCIETY''. Programme was formally started after the recitation of Holy Quran and Naat and National Anthem. Date: 13-Aug-2020, Time: 11:00 AM to 3:00 PM, Venue: New Life Rehab Center, Sialkot-Punjab, Pakistan
Starting of Event:
Hosting By Ali Hassan and Ms. Tayyba
Talawat by Mr. Zeeshan/ National Anthum
Naat by Mr. Shahid
Milli Nagma/ National Anthem
Welcome Note and Intro of ISSUP by Ms. Saima Asghar Director ISSUP Pakistan
Short video Messages of Core Members (30-40 seconds message regarding Independence Day and working of YFP against drug addiction and its prevention was also recorded for general public and shared.
History of Pakistan share by Mr. Muhammad Aslam President M A Jinnah Foundation (Regd), Sialkot-Pakistan
Speech on Importance of Independence by Mr. Muhammad Saqlain
Skit (Tayyaba and her team)
Speech on Drug Use Prevention by Ms. Muhaddisa
Documentary (Ms. Javeria)
Musical Competition and Band by Students of Government Murray College/University, Sialkot as Volunteers
Musical Chair for Children's (short activity)
Q/A Session Regarding Pakistan's Independence Day (Ms. Iqra and Ms. Khinsha )
End Addressing Note by Mr. Muhammad Aslam and Cake cutting Ceremony by All Participants and Guests
Candle lightening for Occupied Kashmir.
Lunch and all expenses of the above said event were sponsored by M A Jinnah Foundation and New Life Rehab, Center, Sialkot