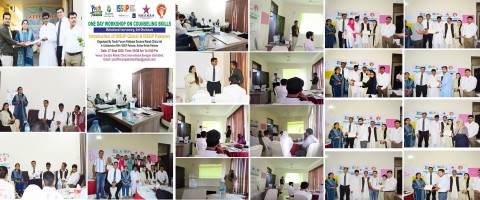 ONE DAY WORKSHOP ON COUNSELLING SKILLS (Motivational Interviewing, Self-Disclosure)
Was organized by Dr. Rehab Clinic International and Youth Forum Pakistan (For Drug Use Prevention) in collaboration with ISSUP Pakistan, Nishan Rehab and Subhan Medical Trust Islamabad on dated 27th September, 2020 at Doctor Rehab Clinic International, Bani Gala Islamabad-Pakistan.
Dr. Uzair Ahmad CEO Doctor Rehab Clinic International welcomed all participants and trainers and this Whole Day Training session was conducted as trainer by, Dr. Talat Habib National Trainer UTCs, Mr. Shafique Anwar Clinical Psychologist, Post Graduate Diploma in Addiction Science, Malaysia, Ms. Sumera National Trainer UTCs and Ms. Saima Asghar Director ISSUP Pakistan also shared the Introduction of ISSUP and ISSUP Pakistan and motivated and guided new participants to become members of ISSUP and shared website www.issup.net for further information and knowledge. Sixteen participants from all across the Islamabad Capital territory and different institutes participated in above-mentioned training and Heads of Different Treatment & Rehab Centers were also invited as a guests.
Mr. Bashir Ahmad Naz, President ISSUP Pakistan, graced the Closing ceremony as chief guest and distributed certificates among participants along with Syed Abul Hassan Shamsi from Ministry of Interior and Narcotics Control, Ms. Saima Asghar Director ISSUP Pakistan Executive Director New Life Rehab Center and Mr. Muhammad Aslam President M A Jinnah Foundation Advisor Youth Forum Pakistan (For Drug Use Prevention) they also shared their views and appreciated the host organization and this training session was ended with sharing the closing remarks by Mr. Shafique Anwar CEO Subhan Medical Trust Center and Director Doctor Rehab International as host. He thanked all the participants and guests.
Main objective of this training is that counselors are supposed to help others to work through the problems. They help people to determine the root cause of e.g. addiction or behavioral issues and focus on healing. They can guide and direct people through a variety of situations and help them to focus on what really matters. But sometimes, counselor needs to work on certain aspects of counseling. This training is arranged for improving Counseling Skills.