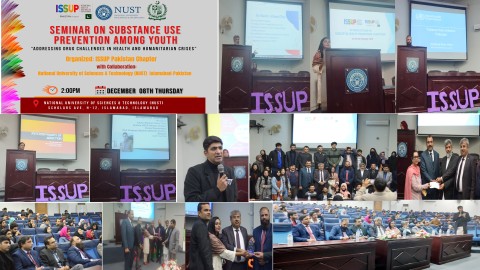 ISSUP Pakistan Chapter organized a seminar on "Substance Use Prevention Among Youth" following the theme "Addressing Drug Challenges in Health and Humanitarian Crises" in collaboration with TABA NUST SDG Student Hub NUST at the National University of Sciences and Technology, Islamabad-Pakistan.
The purpose of this seminar is to address the increasingly concerning issue of drug use among youth by raising awareness and guiding those affected on where to get help from. On Thursday, December 8th, 2022 at NIT Seminar Hall, NUST H12 campus.
Presenters/Guest Speakers from various departments having a highly professional background and huge experience in the field were invited and shared much valued knowledge about substance use prevention.
This event was particularly designed to address youth and academia.
Mr. Bashir Ahmad Naz, President of ISSUP Pakistan Chapter, President graced the event as chief guest and paid a vote of thanks to all. 
Participants who attend this seminar were awarded with certificates.
Shields as tokens of appreciation were also presented to the guest speakers.
GUEST SPEAKERS and TOPICS
TOPIC: INTRODUCTION OF ISSUP AND ISSUP PAKISTAN CHAPTER
Saima Asghar
Social worker
Director 
ISSUP-Pakistan
General Secretary 
M A Jinnah Foundation (Regd)
Executive Director
New Life Rehab Centre
(For SUD Prevention, Treatment & Rehabilitation)
TOPIC: DON'T BE DUPED-TOBACCO IS FATAL FOR ALL PARTICULARLY YOUTH
Mr. Shahzad Alam Khan
National Professional Officer/WHO
Non-communicable Diseases (NCDs),
Tobacco Control and Mental Health, World Health Organisation/WHO.
He has been working in the World Health Organization as National Professional Officer Non-communicable Diseases (NCDs), Tobacco Control, and Mental Health. He has a progressive experience of over 25 years with a particular focus on policy development for the prevention and control of NCDs, promotion of mental health and well-being, and curbing tobacco use, particularly among youth.
TOPIC: MENTAL HEALTH AND DRUG ADDICTION IN YOUTH
Dr Syed Azhar Ali Kazmi
Consultant Psychiatrist
MBBS, FCPS Psychiatry
Head of department of Psychiatry and Behavioural Sciences Poonch Medical College/ CMH Rawalakot Azad Kashmir.
Fellow (Psychiatry)College of Physicians and Surgeons Pakistan.
Internationally certified addiction professional.
National Trainer of Universal Treatment Curriculum.
Provincial Secretary (AJK) Pakistan Psychiatric Society.
Areas of Research
Psychosexual disorders, Prevalence of SUD, Pharmacological interventions in Schizophrenia, Comorbid Obesity among depressive illness patients, Alexithymia.
TOPIC: DRUG ADDICTION AND SUBSTANCE USE IN YOUTH)
Dr Usama Bin Zubair
Consultant Psychiatrist
MBBS, FCPS (Psychiatry, GOLD MEDALIST), MRCPsych (UK), Member American Academy of addiction Psychiatry (USA), Advanced training in Liasion psychiatry and Psychiatric intensive care (Ireland)
Consultant psychiatrist and psychotherapist
Certified DBT therapist
Foundation University School of Health Sciences
Premium diagnostic centre Sadar Rawalpindi
Over 80 publications in national and international journals
Pioneer psychiatrist in establishing services for emotion focused therapies for adolescents and students
(Drug addiction, self harm, emotional problems)
Pioneer in twin cities for introducing latest treatment in mental health
Transcranial magnetic stimulation
First machine in twin cities and second in Pakistan
Regularly contributing for differenting literary journals as well
TOPIC: SUBSTANCE USE AMONG YOUTH IS AN EMERGING PROBLEM AND NEEDS EARLIER INTERVENTION FOR PREVENTION
Dr. Shahnawaz M K Dal
M.B.B.S, D.P.M
Consultant Senior Psychiatrist
Epilepsy Mini-Fellowship
In collaboration with john Hopkins University U.S.A & Agha Khan University Karachi
Consultant Senior Psychiatrist Peoples Medical University Hospital Nawabshah/Shaheed Benazirabad
Specially Trained for Drug addiction Treatment & Rehabilitation by the Federal
Ministry of Narcotics Pakistan, W.H.O & U.N.O.D.C
ICAP –I (International Certified Addiction Professional)
Coordinator for Sindh and master trainer for the Mental Health GAP program for WHO Pakistan
Master trainer TreatNet Program for UNODC
Chairman M K Hospital Hyderabad Pakistan
TOPIC: BUILDING A POSITIVE ATTITUDE AMONG YOUTH
Muhammad Shafique
M.phill Clinical Psychology, Post Graduate Diploma in Addiction Science (PGDAS) Malaysia. Member ISSUP Global and member of the Australian & New Zealand Mental Health Associations
President/Clinical Psychologist
Subhan Medical Centre Trust Islamabad
Director ISSUP Pakistan Chapter
International Certified for Addiction Professional (ICAP-1)
At least 03 Publications in International Journals
Firstly Worked on Relapse Coping Skills among Adolescents who are with Substance Use Disorder
Presented Research Paper at ISSUP International Conference at Abu Dhabi.
Audience/Participants: Students, Faculty and administration National University of Sciences & Technology, Islamabad-Pakistan