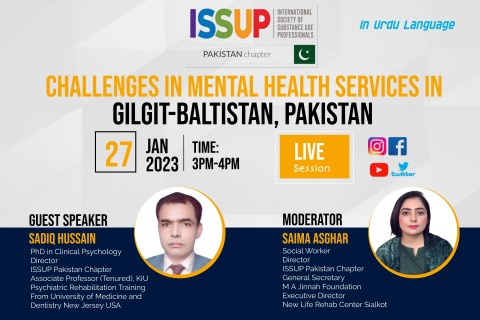 ISSUP Pakistan Chapter is going to conduct a live session on "CHALLENGES IN MENTAL HEALTH SERVICES IN GILGIT BALTISTAN, PAKISTAN" 
from ISSUP Pakistan Chapter's & Youth Forum Pakistan's Facebook Pages, YouTube Channels, and Twitter with Guest Speaker Dr. Sadiq Hussain. He is Ph.D. in Clinical Psychology, Post Magisterial Diploma in Clinical Psychology, Diploma in Psychiatric Rehabilitation, (University of Medicine & Dentistry New Jersey USA) Forensic Psychologist, Researcher, and CEO of Mind & Soul Services). He is currently working as Chairperson, Department of Psychology & Human Development, KIU, Gilgit Associate Professor (Tenured), KIU. The session is going to be moderated by Ms. Saima Asghar Social Worker, Director of ISSUP Pakistan, Executive Director of New Life Rehab Center, and General Secretary M A Jinnah Foundation (Regd), Sialkot, on 27th January 2023 Friday Time: 3-4 pm Pakistan Time.
LEARNING OBJECTIVES: 
Brief introduction of GB, Geography, Demographics, Prevalence of Mental illnesses, available services, Demand-service gap, Role of Government, NGOs, and suggested future action plans
Links to Join!
https://fb.me/e/2Tm8qah0j
https://fb.me/e/5tZOEvPWm
https://fb.me/e/5tZOEvPWm
https://youtu.be/E1mCu1cf7r4
https://youtu.be/Epqd4ErDiR4
https://fb.me/e/2Y2D7F09B
https://twitter.com/IssupP?t=cGjC1xqo8EQi9HZgIe361w&s=09
https://instagram.com/issuppakistan?igshid=OGQ2MjdiOTE=