New Delhi, India,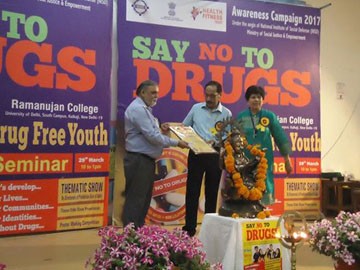 Award of Appreciation
On March 29th, 2017 Dr. Bharat Bhushan, General Secretary of the Muskan Foundation, received the Award of Appreciation from Anand Katoch, Director of the National Institute of Social Defense (NISD), Ministry of Social Justice and Empowerment of India and Sunita Godara, Director of the Health Fitness Trust for Participating in Drug Free Youths - College Campaign 2017 organised by Health Fitness Trust and NISD at Ramanjum College, University of Delhi. The team of the Muskan Foundation provided IEC material on substance abuse prevention during the event.
More than 200 young people from five Delhi universities attended the event. The programme included technical sessions by Dr. Nimesh Desai-Director, Institute of Human Behaviour & Allied Sciences, a presentation on the types and effects of drug abuse, a painting competition and a group dance.
The exhibition stall on IEC materials on substance abuse prevention was displayed by our NGO, the Health Fitness Trust and the Department of Prohibition.