Islamabad, Pakistan,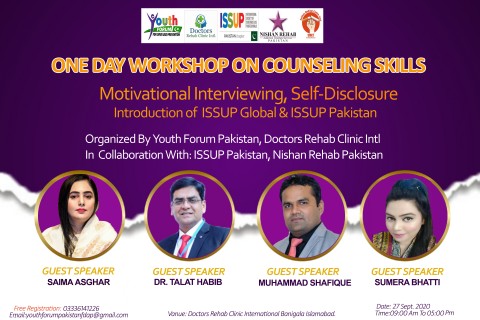 Free Learning Opportunity!
''ONE DAY TRAINING WORKSHOP ON COUNSELLING SKILLS'' (Motivational Interviewing , Self-Disclosure) is going to be Conduct by Dr. Rehab Clinic International and Youth Form Pakistan in Collaboration with ISSUP Pakistan, Nishan Rehab Islamabad and Subhan Medical Center Trust on 27th September, 2020 at Doctors Rehab Clinic Intl. Banigala Islamabad-Pakistan.
Main objective of this training is! That Counselors are supposed to help others to work through the problems. They help people to determine the root cause of e.g. addiction or behavioral issues and focus on healing. They can guide and direct people through a variety of situations and help them to focus on what really matters. But sometimes, counselor needs to work on certain aspects of counseling. This training is arranged for improving Counseling Skills.
WHO CAN ATTEND:
⦁ Addiction treatment workforce (Doctors, psychologists)
⦁ Students of social sciences.
⦁ Social workers
⦁ Out-Reach workers of rehab facilities.
For further information and Detail Please Contact Mr. Shafique Anwar +923336141226
Email: youthformpakistanfdap [at] gmail [dot] com