Seville/Spain, Spain,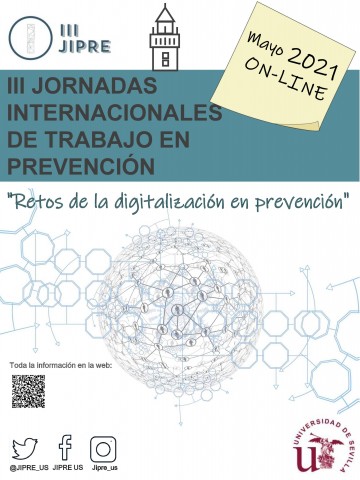 It is a pleasure to inform you that the III INTERNATIONAL WORK CONFERENCE ON PREVENTION (III JIPRE) is approaching, under the slogan "Challenges of digitalization in prevention". These conferences will be held ONLINE during the month of May 2021, organized by the PAIDI Group "Innovation in Care and Social Determinants in Health" of the Nursing Department of the Faculty of Physiotherapy and Podiatry Nursing, of the University of Seville and PRECUICOM.
This year we have worked to offer you an attractive program to meet and discuss from different and complementary perspectives the approach to prevention from the resource of digitization. For this, we hope that you will contribute your perspective, both by participating in proposed workshops and conferences, as well as by presenting communications on the themes of the Conference.
These conferences are intended for researchers, teachers, social health professionals in the field of prevention, as well as students of Undergraduate, Master's and Doctorates in the different disciplines of Health Sciences (Nursing, Physiotherapy, Podiatry, Dentistry, Medicine and Pharmacy, Psychology , Social Work, and more Social Health disciplines). Anyone from other fields interested in the subject will also be able to enjoy the content.
In addition, we inform you that the RECOGNITION OF HEALTH INTEREST has been requested FOR ACTS OF A SCIENTIFIC CHARACTER AND RECOGNITION OF CREDITS
HIGHLIGHTS
The Conference will be attended by….!:
Jeremy Segrott, Former President and member of EUSPR.
Francesca Beccaria, Director of the "European Masters in drug and alcohol studies"
Flavio Marsiglia, Professor at "The School of Social Work in Arizona State University", and director of "the Global Center for Applied Health Research"
******ATTENTION!!!!!!!********
 ****** NEW RELEVANT DATES *******
• Closing of abstract upload: 04-16-2021
• Deadline for reduced enrollment: 04-10-2021
The information, rules for sending communications and the preliminary program is available at: https://gestioneventos.us.es/59007/detail/iii-jornadas-internacionales-de-trabajo-en-prevencion-retos-de-la- digitization-in-prevention.html

We hope count with your participation. As well as with its diffusion.
A cordial greeting.
Organizing Committee of the III International Work Days on the Use and Abuse of Drugs and other Addictives.