DAVAO CITY, Philippines,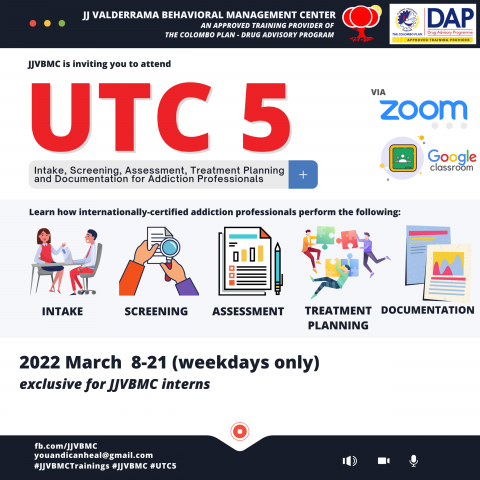 We are pleased to invite you to participate in a training on 𝐔𝐧𝐢𝐯𝐞𝐫𝐬𝐚𝐥 𝐓𝐫𝐞𝐚𝐭𝐦𝐞𝐧𝐭 𝐂𝐮𝐫𝐫𝐢𝐜𝐮𝐥𝐮𝐦 𝟓 (𝐔𝐓𝐂 𝟓): 𝐈𝐧𝐭𝐚𝐤𝐞, 𝐒𝐜𝐫𝐞𝐞𝐧𝐢𝐧𝐠, 𝐀𝐬𝐬𝐞𝐬𝐬𝐦𝐞𝐧𝐭, 𝐓𝐫𝐞𝐚𝐭𝐦𝐞𝐧𝐭 𝐏𝐥𝐚𝐧𝐧𝐢𝐧𝐠 𝐚𝐧𝐝 𝐃𝐨𝐜𝐮𝐦𝐞𝐧𝐭𝐚𝐭𝐢𝐨𝐧 𝐟𝐨𝐫 𝐀𝐝𝐝𝐢𝐜𝐭𝐢𝐨𝐧 𝐏𝐫𝐨𝐟𝐞𝐬𝐬𝐢𝐨𝐧𝐚𝐥𝐬 this March 8 to 21 to May 07, 2022, 3 hours per day, weekdays only via Zoom and Google Classroom.  
Mr. Jerry Joseph Valderrama, ICAP II, RS will be the main speaker of the event. He is an expert in the addiction field, a Global Master Trainer, an International Certified Addiction Professional – Level II, and a Recovery Support Specialist. He is the Chief Executive Officer of JJ Valderrama Behavioral Management Center and one of the board of trustees of the International Society of Substance Use Professionals (ISSUP) Philippines.
Here's the catch, your attendance to this seminar is equivalent to 30 training hours, which can be used as a requirement to prepare interested applicants who want to be certified as Recovery Coaches or Certified Addiction Professional. 
This training is exclusive for the interns of JJVBMC only.
JJVBMC is a certified education provider under the International Centre for Credentialing and Education of Addiction Professionals (ICCE) of The Colombo Plan- Drug Advisory Programme (CP-DAP). It is our mission to enhance, train and expand the drug demand workforce in the region. It is also our prayer to have a drug-free society. Be part of this mission and join us!
For more inquiries you may visit our Facebook page (facebook.com/JJVBMC), call 0945 839 5693 (globe/TM) or 0923 727 5136 (sun/smart) or send an e-mail to youandicanheal [at] gmail [dot] com.
We hope to virtually see you in the training.