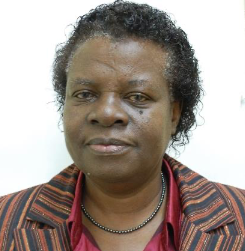 Prof. Jennifer Orwa is a Chief Research Scientist and Associate Professor of Pharmacy. She has over 30 years' experience in natural products research and innovation at the Kenya Medical Research Institute, Centre for Traditional Medicine and Drug Research.
Prof. Orwa holds a PhD degree in Pharmaceutical Sciences from Katholieke Universiteit Leuven, Belgium; MSc in Pharmacology from Kings' College, University of London and Bachelor of Pharmacy degree from University of Nairobi. She has authored and co-authored over 70 publications in peer reviewed journals and over 100 abstract presentations in national, regional and international conferences.
A seasoned researcher, Prof. Orwa is currently executing the duties of Deputy Director, Resource Development & Knowledge Management (RD&KM) at the Kenya Medical Research Institute. Entrusted with the responsibility of overall leadership and coordination of matters Knowledge Management & Knowledge Translation she has appreciated the progressive networking and partnerships that continue to build capacity of health researchers in matters knowledge management for improved practice and Evidence Informed Decision Making in healthcare.