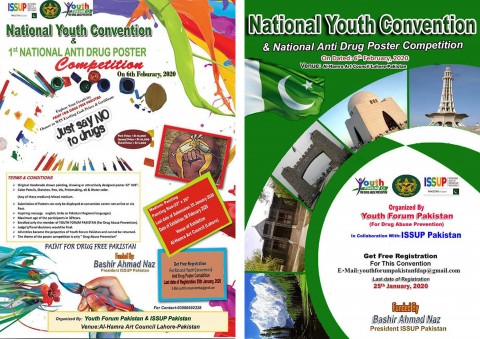 Free Registration! For great learning opportunity about substance use prevention.
The International Society of Substance Use Professionals National Chapter in Pakistan and Youth Forum Pakistan (For drug abuse prevention among youth) are organising a NATIONAL YOUTH CONVENTION and the 1st poster competition with the theme of "PAINT FOR DRUG FREE PAKISTAN" on 6th of February, 2020 from 09:00 am to 0:500 pm at Al Hamra Art Council Lahore. Youth from all provinces of Pakistan including Punjab, Sindh, KPK, Gilgit Baltistan, AJK and Baluchistan are invited to take part in the event.
The main objective of this event is to create awareness of drug abuse among youth and to motivate young people to take an active role in drug abuse prevention and to share future plans with them.