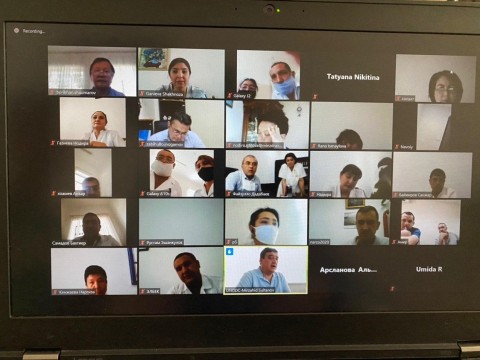 UNODC Mentor initiated webinar held on 24 June 2020 in Uzbekistan. The purpose of the webinar was to create a forum for national experts to share valuable international experience on how to ensure the continuity and sustainability of drug dependence treatment, HIV prevention, treatment, care and support services for people who use drugs and how to implement evidence-based policies that ensure access to effective drug dependence treatment and HIV programmes for people who use drugs.
In his presentation Mentor outlined increasing challenges for treatment and care during COVID-19, UNODC suggestions about treatment, care and rehabilitation of people with drug use disorders in the context of the COVID-19 pandemic, monitoring COVID-19 impact and ensuring continuum of treatment  services during COVID-19. 
Second presentation made by Mr. Andrey Mokiy, Leading Specialist of the National Information-Analytical Center on Drug Control under the Cabinet of Ministries of the Republic of Uzbekistan was devoted to the dynamics of the drug situation in the West Europe and Central Asia as well as  development of drug sells through Internet in the region during COVID-19 pandemic.
Participants also discussed experience of adaptation of the forms and methods of providing drug dependence treatment and care services to the new conditions. Results of providing remote counselling, initiated by the team of national UTC trainers, were presented.
A total of 50 health care providers and representatives of NGOs involved in drug dependence treatment, HIV prevention, care and support services to people who use drugs were reported to attend the webinar and they expressed high interest to continue the work of the forum.
The activity was conducted within the framework of the UNODC global project GLOJ71: "Treating drug dependence and its health consequences: Treatnet II"