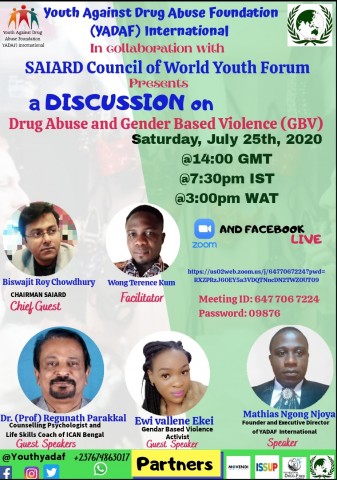 Announcement!!! Announcement!!! 
Youth Against Drug Abuse Foundation (YADAF) International In collaboration with SAIARD Council of World Youth Forum bring to you a Discussion about how drug abuse contribute to the increase rate of GBV. Find out more by joining this discussion to discover what our experience guest in GBV, Drug Abuse and Psychology have to share. 
Date: Saturday 25th July, 2020
Venue: Zoom App and Facebook LIVE 
Time: 14:00 GMT
3:00 pm WAT 
7:30 pm IST  
Please don't miss out of this opportunity to learn about what Gender Based Violence (GBV) is all about and how drug abuse is a major contributing factor plus the offer of  psychosocial support to Victims and Survivors of GBV from a team of Professionals and international Speakers 
Click on the link below to register and receive the zoom link participate for Free
https://forms.gle/qVSVH5xvZzmizbaF8
Please share this event with your friends and spread the word.
Together we can make a Change 
#DrugAbuseAndGBV #YouthVoiceAgainstGBV #EndGBV