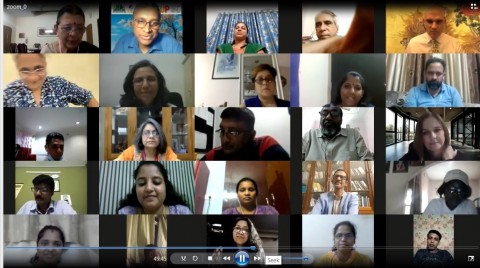 Ecolink Institute opens Alumni Association of UTC students
The students of the Universal Treatment Curriculum on Substance Use Disorder under the Ecolink Institute have opened an International Alumni Association to strengthen and promote evidence based practices in the field of SUD.
The Ecolink-UTC Alumni association was formally inaugurated on 31 July by Ms. Shanthi Ranganathan, a veteran Indian social worker during the graduation ceremony of the 3rd batch of UTC students. Shanthi Ranganathan is the founder of T. T. Ranganathan Clinical Research Foundation, managing the TTK Hospital for the treatment and rehabilitation of drug and alcohol dependents.
 "Education is for transformation, and the Alumni association can translate what they learnt into practice unitedly", said Dr. Shanthi Ranganathan while opening the Association. She congratulated Ecolink Institute for continuing the works of the Colombo Plan during this pandemic effectively.
Ecolink is an approved Training Provider of the Colombo Plan Drug Advisory Program, and based in Mangalore, India.
Ramya R, the president of the Association said the main objectives of the Association is to continue link with the UTC students, share knowledge and skills, strengthen the evidence based practices at the Rehab centers they are attached and to provide online therapy for persons with SUD.
The Association will work closely with the Ecolink Institute and the International Society for the Substance Use Professionals (ISSUP) in their respective countries. The alumni are also members of ISSUP.
The Alumni will organize minimum one webinar on various topics related to SUD management every month for various target groups, start an YouTube channel for free psycho education, organize echo trainings at their communities and run an Addiction Recovery Coach Online (ARCO) with its trained members.
Earlier, an executive committee was elected with members from India, South Africa, Malaysia, Maldives, Botswana and Indonesia with Ramya R as the president.
The alumni association has also honored the first batch of students who have completed the ICAP exam. Becky Vaughn, Director of Global Center for Credentialing and Certification (GCCC) has congratulated the students for their excellent performance.