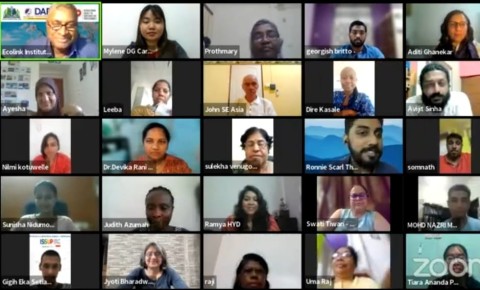 Ecolink Institute in India has honored two outstanding women professionals engaged in the prevention and management of Substance Use Disorder, in connection with the International Women's Day celebration.
Odireleng Kasale, a recovery professional from Botswana and Dr.Devika Rani K , a prevention expert from Hyderabad, India were awarded with International Recovery Leadership Award and International Prevention Leadership award on March 9.
The Institute which won an ISSUP recognition for its Excellence in Training Provision last year, has instituted this award in 2022 to honor women who excelled in the addiction management field. The awards ceremony was organized by the Ecolink Alumni Association, comprised of nearly 300 professionals from 20 countries.
As a consultative committee member of the World Health Organization and a trainer in Recovery Coaching in her country, Kasale contributed to the policy formation and professionalizing the addiction management workforce in her country. 
Kasale and Devika were awarded with a Citation and Certificate, besides a one-year free package on advanced training in various curriculums related to addiction management from Ecolink Institute.
Devika Rani, another student of the Institute had carried out a series of awareness programs for youth groups in schools and Universities on drug prevention in collaboration with the Narcotic Control Bureau, the Police Department, and the Excise in Hyderabad.
A webinar on "Women's Intervention for Substance Exposure" (WISE) was also conducted during this occasion. WISE is a new curriculum developed and piloted by the Colombo Plan, which targets women affected by substance use disorder by developing an exclusive program for them. Ms. Aditi Ghanekar, Global trainer gave an orientation about the WISE curriculum to the participants.