Published by
Public Health Agency of Canada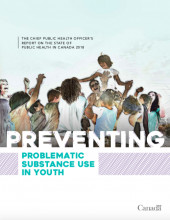 The Public Health Agency of Canada has released its latest report on the state of public health, with a spotlight on the prevention of problematic substance use among youth.
Results from the analysis found that almost 80% of Canadians aged 15 years and older report drinking alcohol during the past year, making it accountable for the greatest health and social costs. It also found that nearly 4,000 Canadians lost their lives to opioid overdoses in 2017 alone.
As well as providing the latest findings on the current health status of Canadians, the study addresses, in detail, the particular concerns surrounding substance use amongst youths. 
The report describes the current situation of youth substance use within Canada and proposes explanations as to why certain young people may be more susceptible to drug initiation. It then goes on to suggest ways to enhance protective factors and foster resilience within youths, and calls upon all relevant health, education and social sectors to implement evidence-based interventions that can prevent substance use in children and adolescents.
The purpose of the report, describes Dr Theresa Tam, Chief Public Health Officer of Canada, is "to examine how we address problematic substance use across all areas of potential action: prevention, harm reduction, treatment and recovery."