Published by
The Swedish Society of Medicine, Swedish Society of Nursing and IOGT-NTO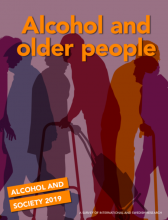 As we get older, our bodies change. This influences how sensitive we are to the influence of alcohol.
Alcohol consumption and related harm has increased amongst Sweden's elderly in recent years.
The Swedish Society of Medicine, the Swedish Society of Nursing and IOGT-NTO have come together to produce a report on the elderly's increased sensitivity to the effects of alcohol which, in combination with the ageing process, may increase the risk of disease and accidents, even at relatively low consumption levels.
The publication includes information about the ageing process and the ways in which it increases our vulnerability to disease and acute and chronic harm.  
As well as providing an overview of the current situation in Sweden, the publication explores the role of alcohol policies and recommended guidelines.