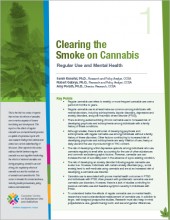 Cannabis is one of the most widely used psychoactive substances in Canada.
The complex relationship between cannabis use and mental disorders has garnered significant attention as a public health issue
This is the first in a series of reports, published by the Canadian Centre on Substance Use and Addiction (CCSA), that reviews the effects of cannabis use on various aspects of human functioning and development.
The report on the effects of regular cannabis use on mental health provides an update of a previous report with new research findings that validate and extend our current understanding of this issue.