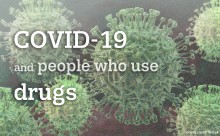 The situation regarding responses to the COVID-19 outbreak is rapidly evolving.
People who use drugs face the same risks as those of the general population and therefore need to be aware of the appropriate advice to reduce their risk of infection.
They can be exposed to additional risks, however, that require developing assessment and mitigation strategies. These are linked to some of the behaviours associated with drug use and to the settings in which drug use take place, or where care is provided. 
EMCDDA has published a special briefing to highlight emerging risks linked to the COVID-19 pandemic for people who use drugs and those providing services for them from a European perspective. The paper provides guidelines on the planning, review and adaption of frontline and specialist drug interventions.