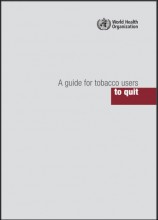 This self-help material was developed based on WHO Capacity Building Training Package 4 entitled "Strengthening health systems for treating tobacco dependence in primary care". Its target audience are tobacco users. It aims to give advice and information to improve tobacco user' readiness to quit and to help those who are ready to quit to plan a quit attempt. The content of this self-help material includes:
1. How to get ready to quit (for tobacco users not ready to quit);
2. How to plan and make quit attempts (for tobacco users ready to quit);
3. Local tobacco cessation support resources.
Source: 
World Health Organization. (‎2014)‎. A guide for tobacco users to quit. World Health Organization. https://apps.who.int/iris/handle/10665/112833