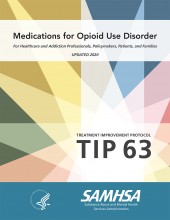 The goal of treatment for opioid addiction or opioid use disorder (OUD) is remission of the disorder leading to lasting recovery.
Recovery is a process of change through which individuals improve their health and wellness, live self-directed lives, and strive to reach their full potential. 
This Treatment Improvement Protocol (TIP) reviews the use of the three Food and Drug Administration (FDA)-approved medications used to treat OUD—methadone, naltrexone, and buprenorphine—and the other strategies and services needed to support recovery for people with OUD.