Published by
SHAAP and IAS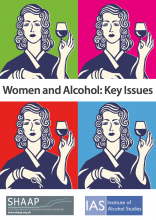 The Scottish Health Action on Alcohol Problems (SHAAP) and the Institute of Alcohol Studies (IAS) co-hosted a four-part seminar series on issues relating to women and alcohol.
The series addressed:
Women, Alcohol and Globalisation
Women, Alcohol and Empowerment
Women, Alcohol and Stigma
Women and Alcohol: What's Next?
You can read a summary of the discussions related to the series here.