Published by
Inter-Agency Standing Committee (IASC)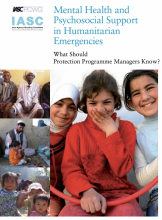 This document is for protection programme managers working at national and sub-national level in low and middle income countries. It is both for Protection Cluster coordinators (and coordinators of the five specific areas within the Cluster) and for protection programme managers in government, UN and non-UN international organisations and local NGO protection programmes.
Based on the IASC Guidelines on Mental Health and Psychosocial Support in Emergency Settings (IASC, 2007), this document gives an overview of essential knowledge that protection programme managers should know about mental health and psychosocial support (MHPSS) in humanitarian emergencies. Protection programme managers will need to ensure that their staff are oriented on relevant parts of this document, as applicable.
The term "psychosocial" denotes the inter-connection between psychological and social processes and the fact that each continually interacts with and influences the other. In this document, the composite term mental health and psychosocial support (MHPSS) is used to describe any type of local or outside support that aims to protect or promote psychosocial well-being and/or prevent or treat mental disorder. Social supports are essential to protect and support mental health and psychosocial well-being in emergencies, and they should be organized through multiple sectors (e.g., health, protection, camp management, education, food security and nutrition, shelter, and water and sanitation). Protection programme managers are encouraged to promote the IASC Guidelines and its key messages to colleagues from other disciplines/ clusters/sectors to ensure that there is appropriate action to address the social risk factors affecting mental health and psychosocial well-being.
Essential clinical psychological and psychiatric interventions need to be made available for specific, urgent problems. These latter interventions should only be implemented under the leadership of mental health professionals, who tend to work in the health sector. Including psychosocial consideration in the protection response will protect the dignity of survivors and enhance the overall protection response.