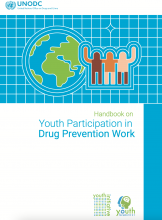 The goal of the present handbook is to offer encouragement, examples, rationales and concrete advice on how to increase youth participation in substance use prevention, harnessing the insights of young people on the most important target group in prevention efforts: their peers.
It is designed to enable all decision makers to capitalize on the power of youth participation, exploring the full potential of young people as a force for change.
The guidance is aimed at leaders in charge of substance use prevention and health promotion efforts at the local, regional, national and international levels.