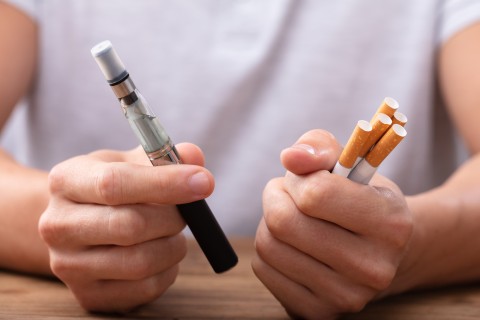 During the past decade, heated aerosolized nicotine delivery systems (HANDS) —mainly e-cigarettes—have surpassed nicotine replacement therapy as the most utilized aids for stopping smoking in England.
It is therefore important to explore how the number of people using different device types and nicotine concentrations is changing, alongside a regulatory environment that may incentivize or discourage use of certain products. This study examined trends in the use of different products including:
e-cigarette device types,
heated tobacco products (HTPs)
and e-liquid nicotine concentrations.
Data came from the Smoking Toolkit Study (STS), a monthly repeated cross-sectional survey that provides detailed information on smoking behaviors and e-cigarette use in England. Data were from a representative repeat cross-sectional survey of adults aged 16 or older who reported that they were currently using e-cigarettes or heated tobacco products (HTPs).
Of 75,355 participants, 5.3% were currently using e-cigarettes or HTPs, with the majority 98.7% using e-cigarettes.   
Among e-cigarette users:
53.7% used tank devices,
23.7% mods,
17.3% pods,
and 5.4% disposables.
Tanks were the most widely used device type throughout 2016–2020. Mods were second until 2020, when pods overtook them. Among all e-cigarette/HTP users, prevalence of HTP use remains rare (3.4% in 2016 versus 4.2% in 2020), whereas JUUL use has risen from 3.4% in 2018 to 11.8% in 2020.
Across all years, nicotine concentrations of ≤ 6 mg/ml were most widely and ≥ 20 mg/ml least widely used. Among e-cigarette/HTP users, ex-smokers were more likely than current smokers to use mod and tank e-cigarettes, but less likely to use pods, disposables, JUUL and HTPs.
In conclusion, refillable tank e-cigarettes remain the most widely used device type in England, even with growing popularity of pods and HTPs worldwide.
Citation
Tattan-Birch, H., Brown, J., Shahab, L. et al. Trends in use of e-cigarette device types and heated tobacco products from 2016 to 2020 in England. Sci Rep 11, 13203 (2021). https://doi.org/10.1038/s41598-021-92617-x