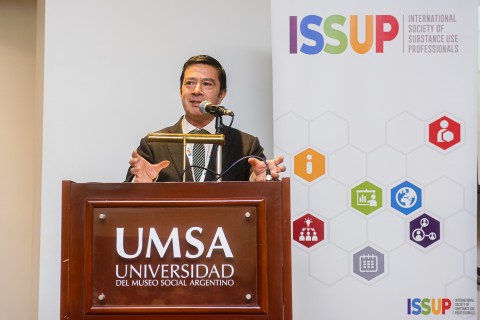 In April 2023, the 1st Regional Conference of ISSUP - International Society of Substance Use Professionals, was held in Buenos Aires, Argentina.
For a week, different panels presented productive sessions on prevention issues, quality of treatment, alternatives to incarceration, stigmas, and scientific evidence, among others. At the same time, training was provided by partners such as the Inter-American Drug Abuse Control Commission (CICAD), Colombo Plan, and ISSUP Argentina, with participants from different countries of the Region. Meetings with organizations such as the International Consortium of Universities for Drug Demand Reduction (ICUDDR), International Technology Transfer Center (ITTC) and Community Anti-Drugs Coalitions of America (CADCA) were also held.
It was a week of multiple learning, meeting spaces, dialogues, plans for the future, etc.; but above all the reaffirming of a collective commitment to continue working for our communities, with the best standards of quality and delivery possible.
Many thanks to the Bureau of International Narcotics and Law Enforcement Affairs (INL), ISSUP Global and Regional, ICUDDR, the Inter-American Drug Abuse Control Commission (CICAD), the Universidad del Museo Social Argentino, Unión Ferroviaria and Obra Social Ferroviaria.
And special thanks to each and every person who participated and made this meeting possible.
Roberto Canay, ISSUP Argentina