Gaborone, Botswana,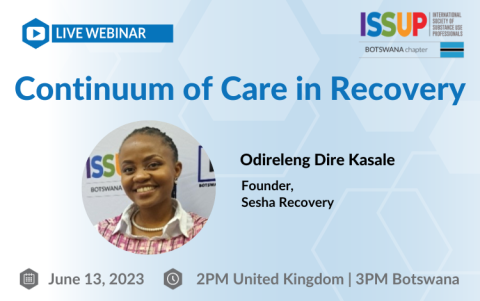 ISSUP Botswana would like to invite you to attend their Webinar on Continuum of Care in Recovery. The webinar will be a presentation outlining how the continuing care addresses the chronic nature of substance use disorders by addressing long term outcomes and recovery.
Time: 3PM Botswana Time | 2PM UK Time
Learning Outcomes:
Audience should be able to define continuum of care
Audience should understand the relation between continuum of care and recovery
Audience should be able to understand how providing ongoing support and resources are important in Recovery
Presenter:
Odireleng Dire Kasale
Founder, Sesha Recovery
Webinars and online events delivered and hosted by the International Society of Substance Use Professionals (ISSUP) are provided for informational purposes only. They are educational in nature and do not constitute medical advice, diagnosis or treatment.