Jakarta, Indonesia,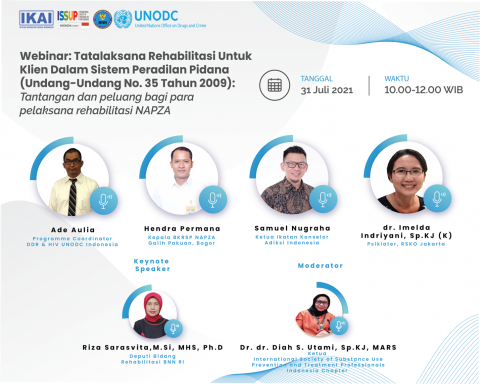 ISSUP Indonesia presents the second Webinar of the series celebrating the launch of the Indonesia National Chapter.
The event topic is: "Management of Clients Rehabilitation in the Criminal Justice System (Law No.35 Year 2009): Challenges and opportunities for rehabilitation practitioners"
The event is hosted in collaboration with the National Narcotics Board of the Republic of Indonesia (BNN), Ministry of Social Affairs Republic of Indonesia (MoSA), UNODC Indonesia, the Indonesian Association of Addiction Counselors (IKAI) and the Drug Dependence Hospital of Jakarta (RSKO). 
When: Saturday 31 July 2021 at 10-12 am West Indonesia time
We invite you to join the event via live YouTubeLive link https://youtu.be/HDx_xH5wHoI.