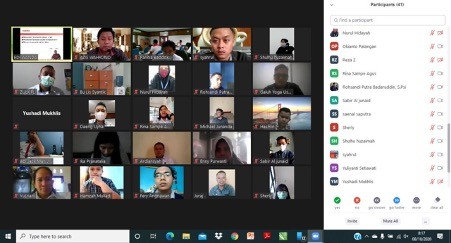 Echo Training Universal Treatment Curriculum for Addiction Professionals: UTC 6 and UTC 8 - Baddoka National Narcotic Board Rehabilitation Center, South Sulawesi, Indonesia.
The Echo training of UTC 6: Case Management for Addiction Professionals and UTC 8: Ethics for Addiction Professionals was initiated by KAPETA and Parahita Education Provider in collaboration with BNN Badokka South Sulawesi, Indonesia. The training to give participants knowledge and skills on Case Management and Ethics on Substance Use Disorder Treatment. Due to COVID-19 Pandemic, the training was held online using Zoom Meeting platform, hosted by KAPETA and Parahita Education Provider. The training facilitated by Mr. Erry Wijoyo, Mr. Christ Chicco, Mr. Ediwanda, Mr. Yushadi Mukhlis, starts from 6 October until 16 October 2020, by 08.00 AM and ended at 12.00 PM. The training involved 50 participants from Baddoka National Narcotic Board Rehabilitation Center, consists of counselors, doctors, nurses, psychologists.
Although the training delivered online, the participants show enthusiasm and active participation. Group discussion and role-plays were used in the training as learning-teaching techniques that helped participants to better understand the materials. Most of the participants are pleased and satisfied with the training.
Echo Training: Kurikulum Rawatan Universal Untuk Profesional Adiksi: Kurikulum 6 dan kurikulum 8 – Balai Rehabilitasi BNN Baddoka, Sulawesi Selatan, Indonesia.
Echo Training UTC 6: Manajemen Kasus untuk Profesional Adiksi dan UTC 8: Etika untuk Profesional Adiksi, diprakarsai oleh KAPETA dan Penyedia Pendidikan Parahita bekerja sama dengan BNN Badokka Sulawesi Selatan, Indonesia. Pelatihan ini untuk memberikan pengetahuan dan keterampilan kepada peserta tentang Manajemen Kasus dan Etika dalam rawatan Gangguan Pengggunaan Zat. Sehubungan dengan Pandemi COVID-19, maka pelatihan diadakan secara online menggunakan platform Zoom Meeting yang dipandu oleh KAPETA dan Parahita Education Provider. Pelatihan ini difasilitasi oleh Erry Wijoyo, Christ Chicco, Ediwanda dan Yushadi Mukhlis, dimulai dari 6 Oktober hingga 16 Oktober 2020, pukul 08.00 WIB dan berakhir pukul 12.00 WIB. Pelatihan ini melibatkan 50 peserta dari Pusat Rehabilitasi Badan Narkotika Nasional Baddoka, terdiri dari konselor, dokter, perawat, psikolog.
Meskipun pelatihan disampaikan secara online, namun peserta menunjukkan antusiasme dan partisipasi aktif. Diskusi kelompok dan permainan peran digunakan dalam pelatihan sebagai teknik belajar mengajar yang membantu peserta untuk lebih memahami materi. Sebagian besar peserta senang dan puas dengan pelatihan ini.