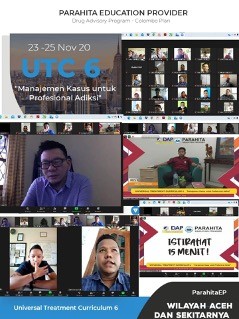 The Colombo Plan-Drug Advisory Program with Parahita Education Provider conducted training on Universal Treatment Curriculum for Substance Use Disorder (UTC) 6: Case Management for Addiction Professionals. The training was organized on online basis for Aceh, Indonesia, facilitated by the following trainers: Mr. Samuel Nugraha, (Indonesia) - Global Trainer.
Attended by 32 participants working in various fields related to SUD. The participants were professionals comprising of any officials from Government representatives and SUD treatment practitioners from Non-Governmental Organizations (NGOs) who have been and are still involved in substance use disorder (SUD) related services.
This basic UTC training provided the participants with the foundational knowledge and skills on SUD treatment. This Training was in line with the DAP's initiative to train, professionalize and expand the treatment professionals. This would enable the developing countries to acquire the evidence-based practices and current knowledge in the field of SUD treatment and also adhere to global standards.
The training program aim to provide foundational knowledge and skills of case management in SUD treatment and skills practice in case management functions such as planning, linkage, monitoring, advocacy, consultation, and collaboration. The three-day training was conducted in Bahasa Indonesia, both explanation and the PowerPoint slides. The training methodology included trainer-led interactive presentations; large and small group exercise, role-play, small group presentation, reading assignments, learning assessment and all conducted online. The participants were very much engaged throughout the training. Finally, participants developed a practice integrated plan to be applied within their organizations.
Pelatihan Daring Universal Treatment Curriculum (UTC) 6: Manajemen Kasus Untuk Profesional Adiksi Untuk Wilayah Aceh
The Colombo Plan-Drug Advisory Program dan Parahita Education Provider menyelenggarakan pelatihan tentang Kurikulum Rawatan Universal untuk Gangguan Penggunaan Zat (UTC) 6: Manajemen Kasus untuk Profesional Kecanduan. Pelatihan ini diselenggarakan secara online untuk  wilayah Aceh, Indonesia. Difasilitasi oleh Samuel Nugraha, (Indonesia) yang juga merupakan Global Trainer.
Dihadiri oleh 32 peserta yang bekerja di berbagai bidang terkait Gangguan Penggunaan Zat. Pesertanya adalah para profesional dan praktisi pada institusi pemerintah maupun dari Lembaga Swadaya Masyarakat (LSM) yang telah dan masih terlibat dalam layanan terkait Gangguan Penggunaan Zat.
Pelatihan dasar UTC ini membekali para peserta dengan pengetahuan dan keterampilan dasar tentang rawatan Gangguan Pengggunaan Zat. Pelatihan ini sejalan dengan inisiatif DAP untuk melatih, meningkatkan profesionalitas dan memperbanyak profesional rawatan adiksi. Hal ini akan memungkinkan negara berkembang untuk memperoleh praktik berbasis bukti dan pengetahuan terkini di bidang rawatan Gangguan Penggunaan Zat dan juga mematuhi standar global.
Program pelatihan bertujuan untuk memberikan pengetahuan dasar dan keterampilan manajemen kasus dalam rawatan Ganggguan Pengggunaan Zat dan praktik keterampilan dalam fungsi manajemen kasus seperti perencanaan, hubungan, pemantauan, advokasi, konsultasi, dan kolaborasi. Pelatihan selama tiga hari dilakukan dalam Bahasa Indonesia, baik penjelasan maupun dengan slide PowerPoint. Metodologi pelatihan mencakup presentasi interaktif yang dipimpin oleh pelatih; latihan kelompok besar dan kecil, permainan peran, presentasi kelompok kecil, tugas membaca, penilaian pembelajaran dan semuanya dilakukan secara daring. Para peserta sangat terlibat selama pelatihan dan peserta dapat mengembangkan rencana praktik terpadu untuk diterapkan dalam organisasi mereka.