Beirut, Lebanon,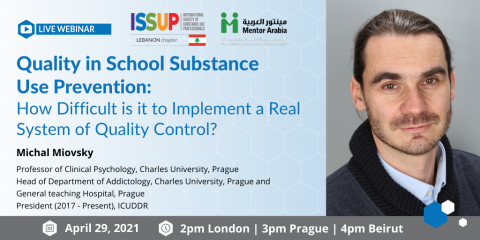 ISSUP Lebanon would like to invite you to attend their upcoming Webinar on the topic of Quality in School Substance Use Prevention: How Difficult is it to Implement a Real System of Quality Control?
Time: 2pm UK / 3pm Czech Republic / 4pm Lebanon
Recent decades have seen the emergence of different quality standards in substance use prevention and the first real international education and training curricula for prevention professionals.
Globally, there are only a few effective national implementation projects and activities with limited sharing and transfer of experiences and know-how for the adoption of international standards and the creation and implementation of national quality control systems.
This webinar presents a case study of more than 20 years of national quality control system development in the Czech Republic. The first component covers establishing the system, incorporating quality standards for interventions and prevention providers into the design of original control procedures linked to governmental financial support/sources. The second component is the quality control system dedicated to prevention professionals/workforce where the Prague team developed and successfully tested an original model called the 4-level qualification system for prevention professionals (based on the competency model). The third and last component, added in 2018, is the development of a national monitoring system for school prevention.
This system is a unique solution for direct, online checking of what is delivered to kids and students (what, when, by whom and other parameters) in the area of school prevention.
Learning Outcomes:
Knowledge: quality, quality control, international standards, national implementation, case study, prevention workforce and professionalising process.

Skills: Understand key concepts in quality control and quality in school prevention, how to adopt international standards and what it is possible to develop in this area.
Presenter: 
Michal Miovsky
Professor of Clinical psychology on Charles University in Prague (Czech Republic)
Vice-dean for non-medical health study programs on the 1st Medical Faculty and Head Department of Addictology of the 1st Medical Faculty, Charles University, Prague and General teaching Hospital in Prague
Professor of Clinical Psychology on Charles University (Czech Republic), clinical psychologist and psychotherapist and supervisor. He is vice-dean for non-medical health study programs on the 1st Medical Faculty and head Department of Addictology of the 1st Medical Faculty, Charles University and General teaching Hospital in Prague. He leaded a process of creating and establishing Bachelor (BC), Master (MA) and postgraduate doctoral (PHD) addiction study program in Prague. He was (2016-2018) president of ISAJE (International Society of Addiction Journal Editors) and since 2017 he is president of ICUDDR (International Consortium of Universities on Drug Demand Reduction and member of executive board of ISSUP.
For more details: