Islamabad, Pakistan,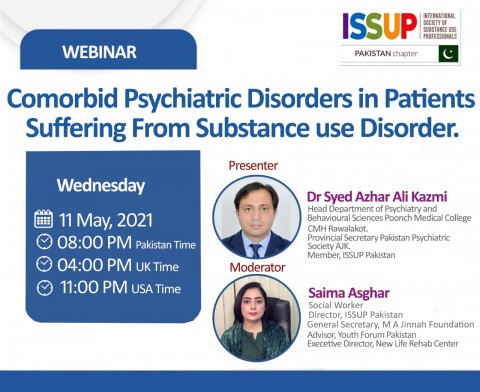 ISSUP Pakistan would like to invite you to their upcoming Webinar on the topic of Comorbid Psychiatric Disorders in Patients suffering from Substance Use Disorder. Comorbid psychiatric disorders are common among patients of SUD and diagnosis and treatment becomes more difficult in SUD. 
Time: 8pm Pakistan Time / 4pm UK Time
Learning Outcome:
Audiences will learn about the 2 way relationship between SUD and other psychiatric disorders , diagnosis of these disorders and plan of treatment.
Presenter:
Dr. Syed Azhar Ali Kazmi 
Fellow (Psychiatry)College of Physicians and Surgeons Pakistan.
Internationally certified addiction professional.
National Trainer of Universal Treatment Curriculum.
Provincial Secretary (AJK) Pakistan Psychiatric Society. 
Head of department of Psychiatry and Behavioural Sciences Poonch Medical College/ CMH Rawalakot Azad Kashmir. 
Areas of Research
Psychosexual disorders, Prevalence of SUD, Pharmacological interventions in Schizophrenia, Comorbid Obesity among depressive illness patients, Alexithymia.