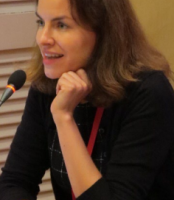 Livia oversees the development of ISSUP National Chapters and has been instrumental in the establishment and sustainability of National Chapters around the world. She is in charge of ISSUP's communications and lead on marketing and social media activities and in the development of marketing materials. Livia also helps to coordinate regular international and regional events and webinars.
Livia has ten years of work experience in the NGO and educational sectors in the UK, Germany, US, Mexico and Argentina. Prior to joining ISSUP, Livia supported and coordinated the development, delivery and evaluation of mentoring and parenting programmes. She also supported and developed content for the Prevention Hub, an online platform for researchers, practitioners, community-based organisations and others working in the field of drug prevention and youth development across the globe. Furthermore, she designed and spearheaded a bilingual community development programme in a low-income Latino community in Texas.
Livia holds a Master's degree in International Relations and Spanish Linguistics and Literature from Texas State University as well as a Bachelor's degree in Education from Karl-Franzens University in Austria. Livia is fluent in English, Spanish and German and has working knowledge of French.
Livia is an active member of the Society for Prevention Research (SPR). She serves on the SPR International Committee and as a liaison between SPR and ISSUP. In 2021 Livia was awarded the SPR International Collaborative Prevention Research Award. The award recognises Livia's significant impact in making evidence-based interventions a reality in many communities in Latin America and in other parts of the world.