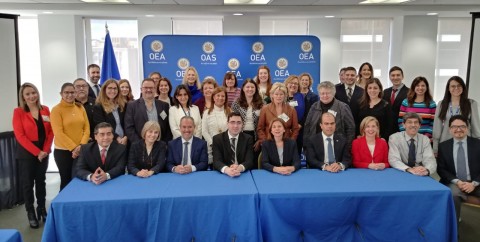 In February 2019 ISSUP staff and Executive Committee members attended the Drug Demand Reduction Programming in the Americas meeting organised by the U.S. Department of State's Bureau of International Narcotics and Law Enforcement Affairs (INL) to share ISSUP's programming in Latin America and the Caribbean and plan for future collaborations. 
The meeting was hosted by the Inter-American Drug Abuse Control Commission (CICAD) in Washington, D.C. with representatives from the Argentinian, Chilean and Colombian government and international organisations including the United Nations Office on Drugs and Crime (UNODC), the Pan American Health Organization (PAHO), the World Health Organization (WHO), Colombo Plan, the International Consortium of Universities for Drug Demand Reduction (ICUDDR), the Cooperation Program between Latin America, the Caribbean and the European Union on Drug Policies (COPOLAD), the Latin American Therapeutic Communities Federation (FLACT), the Ibero-American Network of Non-Governmental Organizations working in Drug Dependency and Addictions (RIOD) and the Caribbean Community (CARICOM) as well as other experts from the region.
The purpose of the meeting was to bring together representatives from governments and international and national organizations active in the region to share their activities, learn from each other and develop a plan to work together on drug demand reduction in the future.