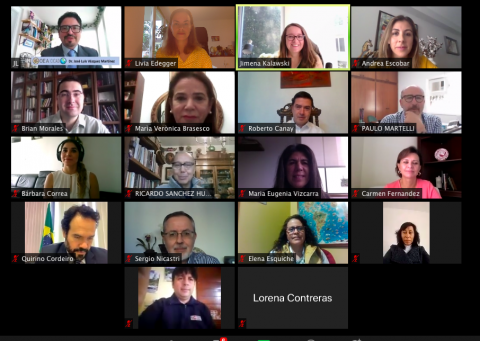 Yesterday ISSUP participated in the CICAD-ISSUP round table on treatment during COVID-19. The meeting brought together ISSUP's National Chapters in Latin America as well as other professionals, experts and government representatives working in drug demand reduction in Argentina, Brazil, Chile, Ecuador, Mexico, Peru and the United States.
The meeting was opened by Andrea Escobar, Senior Programme Officer at CICAD, who introduced the session and speakers. Brian Morales, Branch Chief, Counternarcotics at the U.S. Department of State's Bureau of International Narcotics and Law Enforcement Affairs (INL), provided welcome remarks and an overview of projects and activities under development in the region. ISSUP's Deputy Director, Livia Edegger, welcomed everyone and highlighted the importance of exchange of knowledge and experiences during the pandemic in the region as well as among National Chapters worldwide. 
Jimena Kalawski, Chief of CICAD's Demand Reduction Unit, presented the recommendations of CICAD's Experts Group on Demand Reduction that were developed to ensure the care and protection of individuals currently undergoing substance use treatment. The recommendations take into account crucial issues that need to be addressed during the current pandemic, including those related to health services for people in drug treatment, those providing services to the homeless population, and health care professionals.
The round table was moderated by José Luis Vázquez, Treatment Specialist at CICAD. ISSUP's National Chapters and government officials from the region offered their feedback on the document and added their national and regional perspective to the discussion. 
We hope to publish and share the recommendations with our National Chapters and members soon.