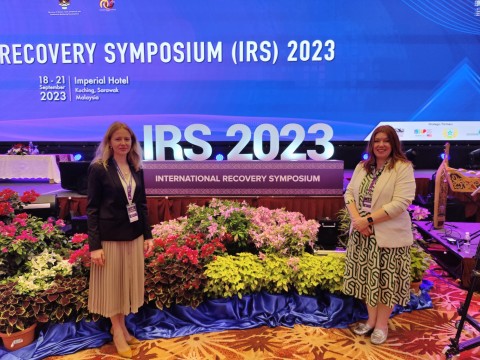 This week, ISSUP was in Kuching, Malaysia, for the International Recovery Symposium 2023.
The event kicked off on Monday, September 18th, with a wonderful opening ceremony at the Imperial Hotel, drawing more than 700 delegates from around the globe. You can watch highlights from the first day here.
The energy and success of day 1 continued into days 2 and 3 of the International Recovery Symposium, with a remarkable turnout of 986 attendees representing 22 countries. During these days, Joanna and Olha led insightful workshops focused on the workforce's needs, gaining valuable perspectives from the engaged participants.
INL's Fan Yang also made a significant impact by introducing the concept of Alternatives to Incarceration, shedding light on the innovative initiatives underway within the local criminal justice systems.
The event concluded on a high note with an impressive closing ceremony and awards gala, where local and individual successes were celebrated. Congratulations to all the deserving winners!
Meanwhile, the dedicated OAPTAR volunteers put in hard work at the ISSUP Malaysia stand, which attracted a constant stream of visitors. We eagerly anticipate a growth in our Malaysia membership numbers as ISSUP Malaysia continues its remarkable journey.
Thank you to everyone who contributed to making this event a resounding success!