San Diego, United States,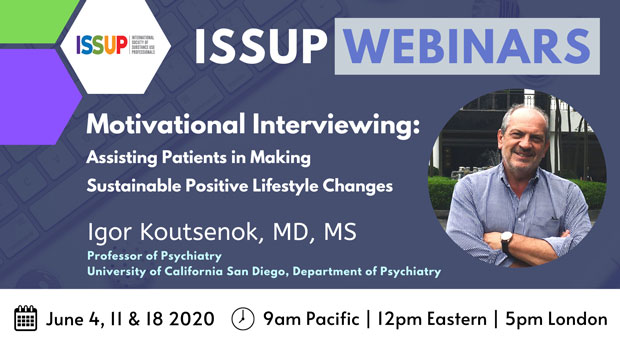 Session 2: Fundamental Skills in MI - OARS
Thursday June 11th 2020
This session will focus on Fundamental Skills in MI (OARS), providing practical exercises to help participants to strengthen empathy skills, recognize and elicit change talk, and roll with resistance. Participants will learn strategies for engaging patients in a collaborative relationship in the treatment process and assist them in achieving sustainable positive behavioral changes. Research evidence will be reviewed for the efficacy of MI and for the importance of building a therapeutic relationship in clients' outcomes. Integration of MI with other treatment modalities will be considered.    
Learning outcomes:
Open and closed ended questions
Affirmations
Summaries
Rowing with OARS
Time: 9am Pacific / 12pm Eastern / 5pm London
Duration: 1 hour
Attendance certificates available.