Washington, DC, United States,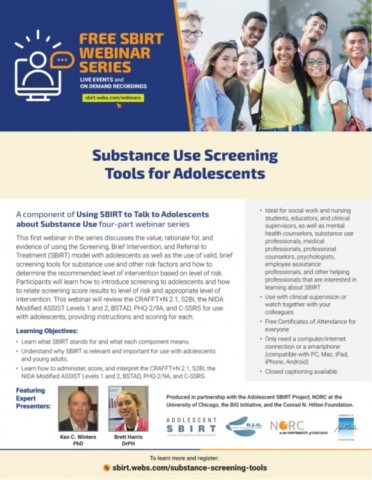 Mon, Mar 29, 2021 11:00 AM - 1:00 PM EDT (Washington, DC time)
One of the largest barriers to providing appropriate substance use services to adolescents is getting them to open up about their use and engage in conversation to reduce or eliminate it, if necessary. The Using SBIRT to Talk to Adolescents about Substance Use four-part webinar series introduces health professionals to the SBIRT model as a way to learn from adolescents about their substance use, talk about what might motivate them to make a decision to reduce or abstain (if needed), and execute a plan to do so.
This first webinar in the series discusses the value, rationale for, and evidence of using the Screening, Brief Intervention, and Referral to Treatment (SBIRT) model with adolescents as well as the use of valid, brief screening tools for substance use and other risk factors and how to determine the recommended level of intervention based on level of risk. Participants will learn how to introduce screening to adolescents and how to relate screening score results to level of risk and appropriate level of intervention. This webinar will review the CRAFFT+N 2.1, S2BI, the NIDA Modified ASSIST Levels 1 and 2, BSTAD, PHQ-2/9A, and C-SSRS for use with adolescents, providing instructions and scoring for each.
Along with cutting-edge, evidence-based education, the expert presenters will provide sample scripts and role plays so participants gain strategies to use right away with adolescents in many settings.
Presented by: Ken C. Winters, PhD, and Brett Harris, DrPH
More information about this webinar: https://sbirt.webs.com/substance-screening-tools
More webinars in this series: https://sbirt.webs.com/talking-2-adolescents-series
More SBIRT webinars: https://sbirt.webs.com/webinars
This webinar series is produced in partnership with the Adolescent SBIRT Project, NORC at the University of Chicago, the BIG Initiative, and the Conrad N. Hilton Foundation.