Islamabad, Pakistan,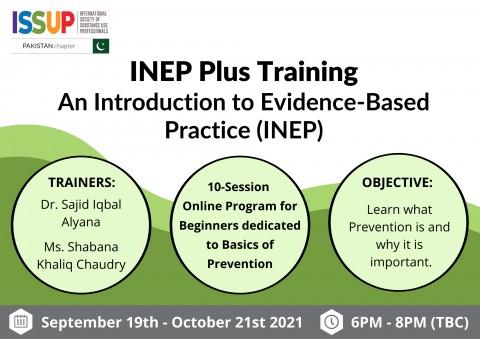 TRAINING NAME: INEP Plus, an Introduction to Evidence-Based Practice (INEP)
LOCATION (COUNTRY & REGIONS):   Pakistan
STAKE HOLDER/IMPLEMENTING AGENCY:  ISSUP Pakistan Chapter
FUNDING SOURCE:    ISSUP Pakistan Chapter
TRAINERS/FACILITATORS: 
Dr. Sajid Iqbal Alyana, Ms. Shabana Khaliq Chaudry    
TRAINING SCHEDULE:  September 19th ,2021 - - November 21st, 2021
TIMING: 06:00 - 08:00pm (may be revised)                                                                       
Scheduling Information
The Introduction to Evidence-Based Practice (INEP) is a 10-session online program for beginners dedicated to basics of prevention. It has been created and provided by Charles University in Prague, an institution well-known for its work and achievements in the prevention field. The INEP program is offered as an introduction to prevention subject for participants moving forward in their training and career development in this field. This course can be a great start for other more detailed programs such as the Universal Prevention Curriculum, the European Prevention Curriculum, or other relevant training or programs.