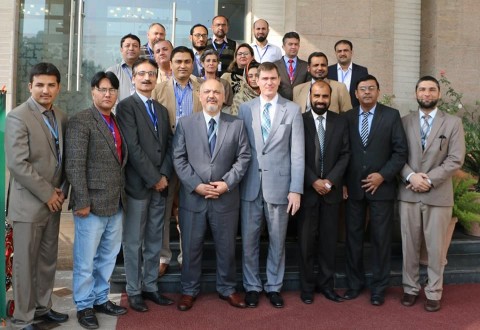 The Ministry of Narcotics Control (MNC) – Government of Pakistan in collaboration with the United Nations Office on Drugs and Crime (UNODC) organized a preparation workshop on the Universal Prevention Curriculum (UPC) on psychoactive and substance use disorders (SUDS).
Ahmad Shah presented a 45 minutes presentation as a request from UNODC/MNC on the prevention work on narcotics prevention that he had carried out and continues to do in Pakistan. The major achievements and the philosophy/process of prevention of the organization he works for. During his presentation INL-Director and Amir U.S. Embassy Office Pakistan was present. Overall, Ahmad received positive feedback regarding his presentation from participants, UNODC, and MNC.
UPC has been developed by prevention researchers and provides a comprehensive training package covering the main fields and theories of prevention, based on scientific research and evidence and an ethical stance on how prevention should be undertaken. The main objective of this programme is: Putting science into practice, with a special focus on capacity building for the planning and delivery of evidence-based drug prevention in Pakistan. UNODC has taken up a project to pilot the implementation of the 3 out of 9 courses and targets prevention coordinators, managers, and teachers/trainers whose role includes, or will include coordination and supervision of the implementation of prevention interventions and/or policies.
In this regard, UNODC organized a 2-day-workshop in Islamabad, Pakistan on 28-29 November 2018, which provided an overview of substance use prevention around the world under UPC, preparation for the UPC courses and training delivery skills for the following courses:
Course 1: Introduction to Prevention Science (Introduction)

Course 5: School-based Prevention Interventions (School)

Course 8: Media-based Prevention Interventions (Media)
As per UNODC /MNC the dates for the above mentioned 3 courses will be shared soon, expected in January, April and May 2019. This is very good news for prevention professionals in Pakistan.