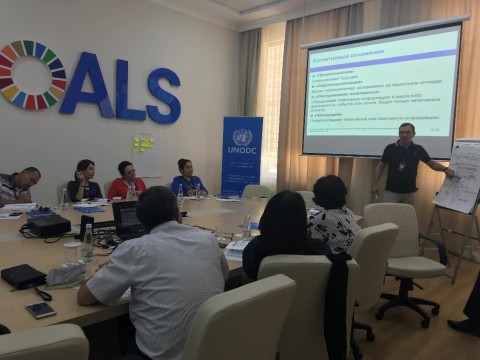 From 15-21 July 2019 team of national trainers from Turkmenistan attended the National Training of Trainers held in Ashgabat, Turkmenistan.
There were 12 representatives of drug dependence treatment service of the Ministry of Health of Turkmenistan and non-profit organizations (ICAP 1 holders) trained on the two following courses of Advanced Level UTC:
Course 12: Cognitive-Behavioral Therapy
Course 15: Managing Co-Occurring Disorders
Trainer-led presentations, small-group and reflective exercises, role-plays and case study discussions helped participants to improve their knowledge and skills on providing evidence-based treatment interventions.
These national trainers will be responsible for conducting series of echo-trainings on selected courses of Advanced Level UTC training package for the addiction professionals from Turkmenistan.
The training was conducted within the framework of UNODC joint capacity building activity with Colombo Plan Drug Advisory Programme (DAP).
The UNODC ROCA and Programme Office in Turkmenistan stands ready to continue its support to the Ministry of Health of Turkmenistan in reforming its drug dependence treatment service in compliance with international standards and the strengthening of capacity of drug addiction specialists.