Colombo, Sri Lanka    18-26 January 2020
By Rogers Kasirye
The workshop started on 18th January organized by Colombo/ INL for the support in undertaking the training programme for Afghanistan entitled Training on the Universal Curriculum for Substance Use - Implementers Series (UPC1), core course for Afghanistan Cohort 2. The participants who attended the workshop were to be equipped with skills, correct attitude and knowledge with regard to the Science of substance use prevention. The facilitators Dr. Isabel Melgar (Philippines) and Rogers Kasirye (Uganda) and Farhad Akabari from Afghanistan.  The specific objectives of the training were to:
Describe why substance use prevention is important; explain what the Critical Themes are and how they relate to the Universal Prevention Curriculum series. Explain the continuum of substance using behaviors and points for intervention and the need for comprehensive and integrated prevention and treatment interventions/services; Define psychoactive substances, their pharmacology, and the levels of progression of substance use.
Participants were expected to discuss the application of theory to prevention interventions with a focus on learning theories and theories of behavior; and also describe the advantages and disadvantages of delivering evidence-based prevention interventions and policies, review and describe the Implementation Cycle and identify the implementation steps in each phase and list the different settings where substance use prevention takes place in the community.
Participants were helped to describe the knowledge, competencies and skills at each level of prevention professionals in order to select and implement evidence-based prevention interventions and policies; and summarize and apply some of the basic rules of ethics to professional behavior in prevention programming. In the end were expected to state at least one personal learning goal. As well as indicate one of the Specialty Tracks for continuing training in prevention in the future.
This was to introduce and train the Afghan participants in the INTRODUCTION TO THE UNIVERSAL PREVENTION CURRICULUM SERIES FOR IMPLEMENTER THE CORE COURSE ADAPTED VERSION.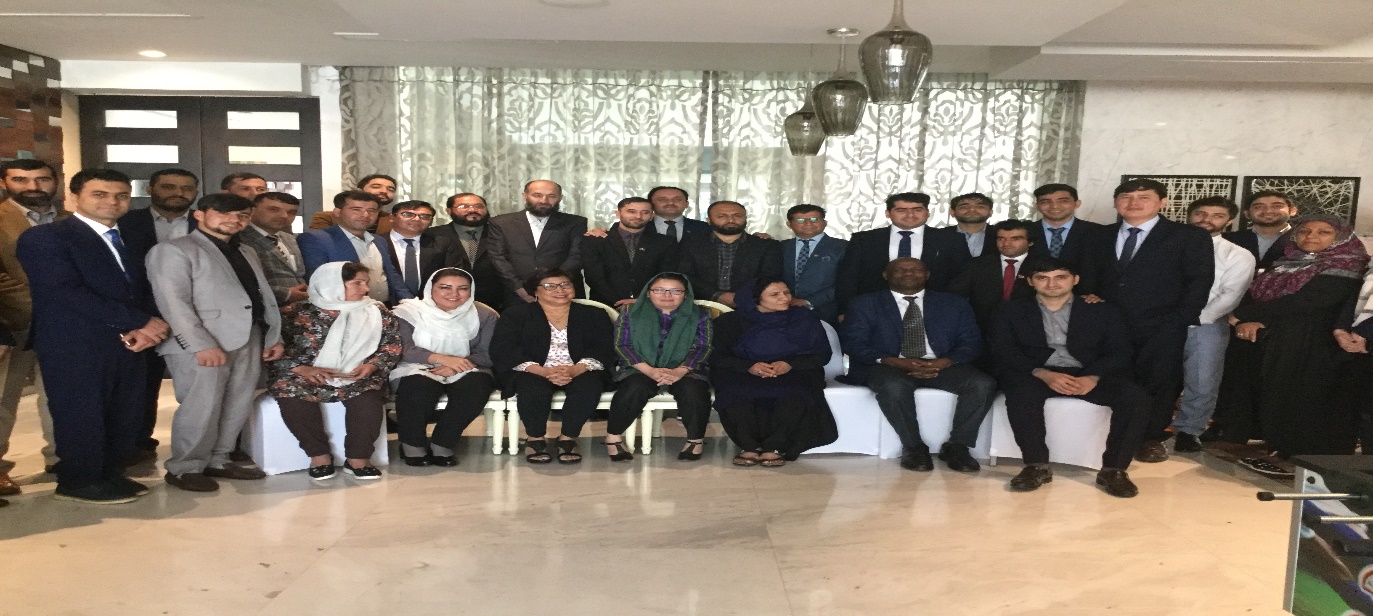 The facilitators largely used lectures and small group discussion to deliver the content on modules.
The training team used lectures in the main plan to get participants' reflection verbally on the slide content and allowed them to ask questions, share their experience thus allowing participatory sharing and reflection. This was also echoed in the small groups. The training workshop had a good mix of participants from the government, NGOs, and academia. There were master trainers, education managers, NGO managers, and the faculty.