The Drug Advisory Programme (DAP) of the Colombo Plan in collaboration with the National Narcotics Board of the Republic of Indonesia (BNN) has successfully conducted the first online echo training for the CHILD curriculum on Course 1: Interventions for Children with Substance Use Disorders in Indonesia. This initiative is carried out to ensure that international treatment capacity building continued uninterrupted during the COVID-19 pandemic situation.
The first course of the CHILD curriculum addresses the need for treatment professionals to alter intervention techniques to accommodate the individual child's level of cognitive and emotional development. It introduces the major topics which are expanded on in the later courses, and presents components of a unique evidence-based intervention for working directly with children – "The Suitcase for Life"
The training was held from April 21 to May 21, 2020 using Indonesian as the language of instruction. The implementation was divided into 10 sessions where each session was conducted for 2 hours every Tuesday and Thursday from 10-12 am Western Indonesia time. The training was attended by 34 participants from BNN's substance use disorder (SUD) treatment offices in 6 Provinces and 3 directorates from the BNN headquarters. All the Treatment Officers attended the entire series of training sessions enthusiastically and attentively.
The training was facilitated by the DAP Program Officer, Mr. Erry Wijoyo, and SUD Counselor for children and adolescents of BNN, Ms. Rosita Dewi Renel, two of  the CHILD Curriculum Master Trainers. The Deputy Director of DAP, Dr. Nathalie Panabokke, and the Programme Officer for the CHILD project, Mr. Franklin Mwirichia, attended the training. They were joined by officials from BNN, Dr. Yuli Astuti, M.Sc, and Dr. Nugroho, M.Sc., for the opening ceremony to welcome and address the participants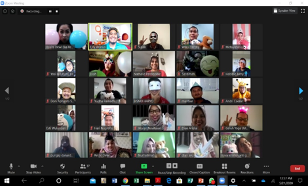 All elements of this training are completed online, such as for topic presentations, pre-post tests and training evaluations. Some sessions are adjusted so that they can still be effectively facilitated through the distance learning method. Methods of adjustment included organizing discussions in smaller groups through the "breakout classes" feature, assigning homework to a number of topics - participants made posters to provide summaries of specific topics and / or made video recordings of how they practice the skills taught in session. This is done to ensure that the training hours required in this course were fulfilled.