Published by
United Nations Office on Drugs and Crime and World Health Organization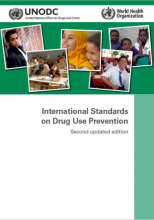 The second edition of the publication, International Standards on Drug Use Prevention, published by the United Nations Office on Drugs and Crime (UNODC)  and the World Health Organization has been released. The document offers guidance for policymakers and global stakeholders interested in prevention and the implementation of drug prevention strategies. 
The publication touches on topics such as prevention science, policy, interventions targeting different stages of childhood development including prevention during pregnancy and within families, school based programmes, and prevention in adulthood. Also included is information about different formats prevention interventions might take, including in the media, "entertainment venues" such as bars and clubs, and community based initiatives. 
The document will also be useful for those hoping to initiate research in the field of prevention through highlighting the areas where research gaps exist in addition to guidance on the creation of robust research. 
Read more about ISSUP's involvement in the creation of the document here. As part of an Expert Group our Executive Director at the time, Jeff Lee, attended a consultation on the Prevention Standards.