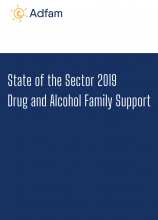 This report shares the findings from Adfam's State of the Sector Family Support Survey which in 2019 asked 117 practitioners and managers working in family support services in England about current trends, developments, strengths and challenges in the sector. It explores a range of themes including commissioning, funding, family needs, partnership working, and service delivery.
Key findings include the negative impact of ongoing funding cuts on the numbers of staff providing family support, as well as on the scope of services that can be provided. This is occurring amongst reports of increasing and more complex client needs. Many practitioners are working under constant threat that funding will be withdrawn. 
However, despite the challenging landscape in which they work, the respondents to the state of the sector survey show resilience and continue to provide vital support for families through dedicated hard work. 
To read the full report, please click here.