Published by
International Technology Transfer Center (ITTC) Ukraine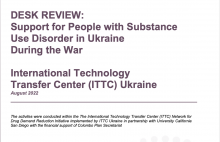 Summary
War in Ukraine has inevitably led to the country's health system functioning at reduced capacity. Attacks near hospitals and active military operations force people to change their place of residence and flee from the war to safer regions of the country or go abroad as refugees. As a result, vulnerable populations are unable to safely attend healthcare facilities to receive substitution treatment and specialized support services.
The purpose of the research is to provide an insight into the current state and key issues of provision of special medical care and support services for people with substance use disorder in Ukraine during the war. The research is based on desk review involving the collection and synthesis of available information to gain an understanding of the current state of the problem, and to identify appropriate policy and operational responses.
More than 40 documents were selected for analysis including journal articles, analytical reports, information published by state authorities, statistical surveys of international institutions, as well as reports from non-governmental organizations and online articles.
Results of the desk review demonstrate that from February 24, when Russia launched an undisguised military aggression against Ukraine, more than 6 million people left the country, and more than 7 million moved to other regions of the country. Among them are people with substance use disorder (SUD) who are particularly vulnerable in resettlement and are at risk of losing access to services and treatment.
More than 800 health care facilities were damaged since the start of the war, and more than 120 of them cannot be restored. In addition, more than 57 health care facilities in Donetsk, Luhansk, Zaporizhia, Mykolaiv, Kharkiv, Kherson and Chernihiv regions that offered medication-assisted treatment (MAT) for people with SUD, are now closed or under risk of closure, while health care facilities in western regions of Ukraine are overcrowded with internally displaced people (IDP) seeking help from war trauma.
Supply routes within the country have been thrown into disarray and eastern regions face challenges with medication supplies, including methadone and naloxone.
Ukrainian methadone factories (two largest facilities are in Kharkiv and Odessa) have stopped operations. Western regions also reported the relative lack of mental health medications due to the significantly increased number of service users.
Shortage of staff was another problem reported by various medical facilities due to specialists' evacuation, displacement or professionals directly suffered from military actions.
There was not much data about activities of non-state rehabilitation centres, which provide psychosocial care for people with SUD, since the start of the war, except several announcements of separate centres about evacuation.
As of July 23, 2022, 321 territorial communities from 9 regions are located in areas of military operations, or are under temporary occupation or blockade. More than 400 Ukrainian health care facilities ended up in the occupied territories, 87 healthcare facilities were destroyed, 84 of which were in Donetsk region. Mental health institutions, which are in active military zone, face with lack of shelters, food, hygiene, medical supplies and backup technologies in case of disconnection of power grids.
However, Ukraine continues to support the medical system in the temporarily occupied regions and continues funding of medical facilities. Unfortunately, Russia is blocking the supply of medicines, including vital ones, from the territories controlled by Ukraine to the temporarily occupied ones.
In the territories temporarily occupied by Russia, health care facilities continue to provide MAT services if there are stocks of medications. After running out of medications, institutions are forced to stop work due to the impossibility of delivering new batches of medications to the temporarily occupied territory (MAT is not supported by Russia legislation), the destruction of the building, and the lack of staff. According to data published by the Alliance for Public Health, more than 2,138 patients are at risk of MAT treatment interruption.
Persons with SUDs in criminal justice settings can receive both pharmacological therapy (MAT for opioid use disorder) and psychosocial rehabilitation. MAT was implemented since 2019 and, by the beginning of 2022, it was implemented in seven health care institutions of the criminal justice system: 2 in Kherson, 1 in Poltava, 1 in Lviv, 1 in Vinnytsia, 1 in Khmelnytskyi, and 1 in Zaporizhya regions. In 2020, 181 people with mental and behavioral disorders due to opioid use were treated with MAT in criminal justice institutions.
As for the provision of services to people with SUD in criminal justice settings, 1 colony, which provided MAT, was evacuated, 2 colonies, which provided MAT, are under occupation and the program was interrupted. All other colonies continue to provide psychosocial rehabilitation for people with SUD and those inside the territory of Ukraine continue to provide MAT. Moreover, since the beginning of the war the MAT program was implemented in 2 more institutions of criminal justice settings.
In order to enhance service provision for people with SUD during the war, the following legislative changes were made: redistribution of methadone supplies, MAT medications prescription for 30 days, mental health medication prescription by family doctors, easy access to psychiatric services for IDPs, and the launch of the development of National Mental Health and Psychosocial Support Programs.
All further efforts of public authorities and civil society organisations should be aimed at ensuring continuity of care to people with SUD by providing appropriate resources (including medications) and up-to-date information for all key vulnerable populations about available treatment and support. It will allow the establishment of adequate emergency mental health care infrastructure and a reliable prehospital system to reach the individuals with SUD in underserved areas throughout the country and in western regions overcrowded with IDPs. Moreover, the response plans should include provision of long-term support to minimise possible adverse consequences of the war.
Another side of the coin is that Russia's invasion of Ukraine triggered a mass displacement of Ukrainians abroad. For some European Union member states, increasing numbers of people fleeing the war in Ukraine is a challenge, as they are not prepared to address the needs of large numbers of refugees with SUD. Moldova has received the most refugees per capita, but Poland has taken the highest number in total (over 3 million Ukrainians).
In this context, the efforts of the international community should be focused at strengthening capacity of the health care system in countries receiving refugees and supporting refugee accommodation centres to expand MAT and maintain support for refugees with SUD who may not have their medical files with them. And, along with that, to ensure access to psychosocial services as part of the complex manegement of SUD.